A reduction in packaging costs, standardisation of supply flows and environmental sustainability.
In modern industry, there is growing concern for environmental matters and a drive to reduce waste production and use of resources.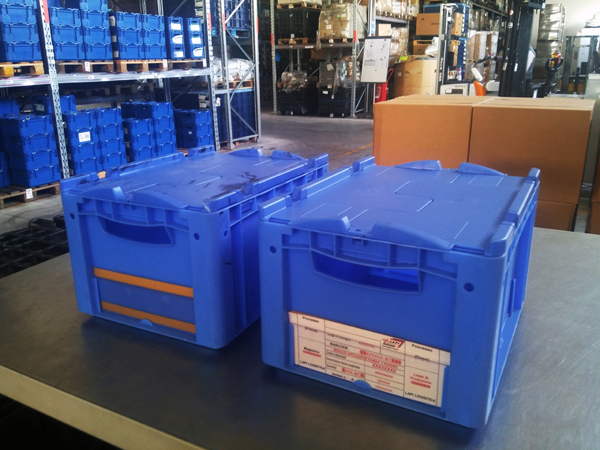 Many companies now use what's known as "returnable" packaging, since it's a satisfying solution that blends reductions in packaging costs and supply flow standardisation with greater environmental sustainability.
What happens is that "disposable" packaging made from card/cardboard is substituted with durable packaging made from plastic, polystyrene or other materials. These containers can be used to hold materials destined for production sites or the finished products ready for dispatch to customers. They're very useful for managing in-house production stages or when subcontracting to external suppliers.
Although using reusable packaging provides significant opportunities to enhance production cycles, they can't avoid getting dirty through use. With this type of packaging, companies face a series of new challenges:
ensure packaging is restored to the agreed standards
gmanagement of stock circulating between suppliers/customers/external warehouses
handling spikes in production/demand
Our services: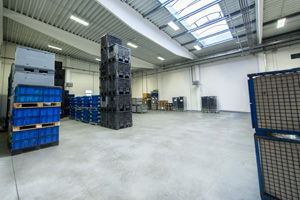 At our facility in Perignano in the province of Pisa – also easily reached from Florence and Leghorn – we can look after your packaging to best practices, not only washing the containers but also providing additional services and guaranteeing a 365-days-a-year service.
Washing /cleaning of packaging Lapi Logistica offers industrial cleaning services for all kinds of returnable packaging: cases, boxes, KLTs, totes, lids, trays, caps and pallets. Our service comprises all sectors of industry, including automotive, food, beverages and pharmaceuticals. The items are hot-washed with optimised cleaning and sanitisation, and with or without the use of degreasers, depending on the stubbornness of the dirt. The washing stage is followed by thorough drying and restoration of the containers to the agreed conditions. We ensure that the packaging is ready for reuse in the shortest possible time.
Identification
In order to enable optimal management of flows and stock, the first step is to properly identify the packaging. We can help you find the best solution for your business and look after provisioning and applying permanent or removable sticky ID labels, plastic/metal tags, RFID tags or barcodes, as well as printing logos on the packaging.
Flow and stock management
Thanks to our warehouse management system (WMS), we can handle an exceptionally broad range of operations and ensure that your packaging can be traced at any time. We also offer a number of additional services, including:
24h web access
stock control
available-stock management
reporting and statistics
customisable alerts
Restoration of packaging and kits
After the washing stage – or independently of it – your packaging can be recomposed to the agreed standards in accordance with the shared packaging data sheet (PDS).
Availability of alternative packaging
To help you face any spikes in production and/or demand, we offer tried-and-tested solutions ensuring that orders will be dispatched swiftly. We work together with you to decide the best alternative packaging to use in an emergency.
Advisory services
We can help you select the most appropriate type of packaging for your needs. Tell us about your project and we'll be happy to analyse the potential for improving your existing systems – totally commitment-free.
Sale and hire of returnable packaging
With our vast experience and the relationships we've consolidated over the years with the major producers and logistics players from the world of packaging, we'll manage to find the most fitting solution to your needs, whether it involves buying or hiring containers.
Why choose Lapi Logistica?
Over our two decades in the world of logistics, we've gradually perfected our packaging management system. Today, we can guarantee you not only the highest standards of cleanliness at the best price-quality ratio on the market, but also guarantee that your packaging will be carefully handled from the beginning to the end of its life cycle. During this time, you'll be able to have maximum control with minimum effort. Choose Lapi Logistica for:
High standards of quality
Savings compared with an in-house system
Focus on hygiene
Hygiene and cleanliness play a vital role, especially in the food and pharmaceutical industries. It's second nature for us to satisfy all our clients' requests, even the most demanding ones, and look after everything down to the last detail.
Low environmental impact
Lapi Logistica cares about the environment around us. That's why, when planning all our work processes, we focus strongly on reducing our environmental impact and producing as little waste as possible by encouraging the reuse of resources.
We offer complete, tailor-made solutions for:
The manufacturing and automotive industries
Washing of returnable trays and containers (KLTs) used in both inbound and outbound flows.
Pharmaceutical industry
Washing of reusable containers used in the healthcare and pharmaceutical industry with guaranteed adherence to the most stringent requirements laid down for those sectors.
Chemical industry
We're available to perform assessments for chemical producers regarding the cleaning and reuse of stainless-steel tanks, barrels and containers.
Food industry
Trays and boxes washed and dried for supermarkets, fresh-produce wholesalers, meat producers, dairy producers, bakeries and other types of food.