Inbound materials management, shipments, non-conformity and returns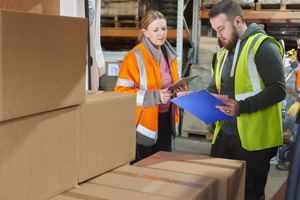 Thanks to the experience we've gained in the automotive sector, we've been able to develop proprietary software systems and applications to allow us to handle the most wide-ranging requests from our clients. We've created tools to serve logistics operators which provide accurate, complete information, thereby allowing the operator to see exactly how the outsourced process is proceeding and improving management of the logistics services overall.
Inbound materials management
Our inbound materials management process is the fruit of studies and optimisations developed and tested by operators with the aim of ensuring maximum operativity and minimum margins of error. Strict quality and quantity controls are performed on the received goods in special areas set aside for arrivals management and the early stages of identification and sorting of the goods; this way we can be sure that the goods are correct and undamaged. Identification in accordance with the standard agreed on with the client and management using optical barcode readers allow us to guarantee the traceability of packages and drastically reduce the number of errors throughout the materials handling process.
Controlled access
Our tight internal security policy means that all the carriers who arrive at the loading/unloading gate are checked and all the relevant information is recorded on our software so that our clients' goods stay safe and everything can be traced in the event of disputes or damage to the goods.
Handling non-conforming goods
Any anomalies found when the goods arrive (or at any later stage) are classed as Non-Conformity and must be dealt with swiftly in order to avoid any repercussions further down the logistics chain. In line with your needs, we'll identify the most appropriate modality to deal with and solve any problems which arise. We handle everything from the simple non-conforming-goods statement to more complex management activities and analyses designed to ensure the anomalies won't occur again, enable improvements to the logistics process and recoup the costs by interfacing with the suppliers and carriers involved.
Handling returned goods
As well as accurate physical management of the returned goods warehouse – through identification, traceability and, when necessary, placing in specially set-up areas – you'll be able to count on all the necessary assistance with the administration surrounding disputes. We communicate with the supplier in line with the agreed terms in order to arrange for pick-up of the goods and then supply accurate, complete feedback.
Handling deliveries and shipments
Cutting-edge technology, procedures and management systems optimised in line with modern lean-manufacturing principles, as well as the use of efficient picking equipment such as gravity racks (racks where the items are inserted at the back and removed from the front, having rolled down on channelled rollers), enable us to efficiently handle your deliveries and shipments, from booking couriers (over the web or the telephone) to managing the shipment schedule, always with our trademark precision and professionalism.